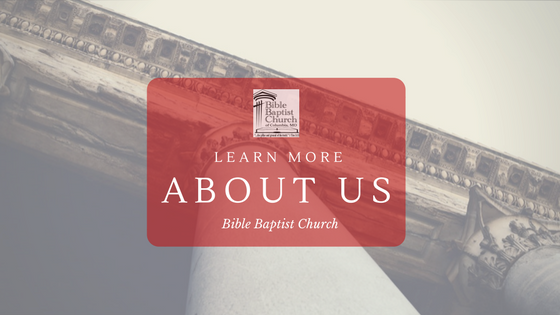 Welcome to Bible Baptist Church of Columbia, MO website!
We would love for you to visit more than just our website.  Please accept our personal invitation to visit with us during any of our Sunday or Wednesday services.  Most people have many good reasons for "why" they don't go to church.  We live in a busy society and Sundays just seem to be the day to get things done.  But ask yourself this question, "What am I doing to help my family, my children, my marriage, and myself draw closer to God?"  If we are honest, the long list of things that needs to be done really doesn't compare to having a better relationship with God.
If you make time to visit, we guarantee that you will be made to feel welcome. We may or may not be what you are looking for in a church, but we assure you of two things, you will hear preaching and teaching out of God's Word and you will have no doubt that the people of Bible Baptist Church were glad you came to visit.  Purpose in your heart to take time to visit with us in our next service.
Please feel free to browse our website. On it you will find our location, service times, statement of faith and a host of other information.  If you have any questions about our church please send us a note via email or phone us.  We will be glad to answer any question you might have. You may email me directly at preacher@thebiblebaptist.org, or the church office at columbiabbc@gmail.com.
If you are moving to Columbia and need information about the local area, please let us know.  We will be happy to help in any way we can.
If you wish to learn more about us, please see our purpose and beliefs page.
We hope to see you soon!
Because of Christ,
Jeff Hastings, Pastor